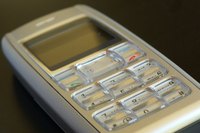 To call the United States from Mexico while on vacation, you must dial the country code plus the area code plus the local number. The United States country code is 001. International phone calls may be made from cell phones with an international plan, Internet calling services and calling cards.
Contact your cell phone company to set up international calling. Fees for this service vary depending on your cell phone provider. Costs per minute for phone calls may be about 99 cents. Carriers that provide this service include Verizon, AT&T, Telus and Nextel. Check with your phone carrier to see if you can update your phone to work in Mexico.
Purchase a global phone. With a global phone, you can make international calls and send text messages from other countries. Global phones already have international calling plans built into them. Contact your cell phone provider for global phone availability.
Rent a cell phone. Cell phone rental in Mexico allows you the convenience of using a cell phone that allows you to make reduced price calls back to the United States. You can even have a U.S. number for ease of people trying to call you. For more information visit the Cellularabroad.com website.
Purchase a calling card. Calling cards allow secure international calling at reduced rates. Calling cards provide a toll-free number as well as a PIN number. Once you dial the toll-free number plus the PIN, you will be able to enter the United States phone number you are calling from Mexico. For more information on purchasing calling cards, visit the Callingcards.com website.
Download Skype. Skype is a free Internet calling service that allows you to call anyone from your computer to their computer for free or purchase a pay-as-you-go plan allowing you to call a U.S. phone number for a few cents per minute from your computer. Visit the Skype.com website for more information.