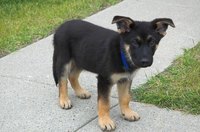 Long-haired German shepherd puppies are differentiated from standard-coat German shepherds by several factors, including the length of their coat. To determine which group a puppy belongs to research its history with the breeder and examine the puppy's physical characteristics.
Discuss the puppy's heritage with the breeder, and determine if the parents were long-coat or standard-coat German shepherds. It is important to note, however, that the gene capable of producing long-coat German shepherds is recessive. This means that if both parents of the puppy have standard coats but both carry this recessive gene they can produce a long-coat puppy.
Examine the length of the German shepherd puppy's coat. Long-coat German shepherds have longer hair than standard-coat German shepherds and it will sometimes part along their backs.
Look for tufts of longer hair around the ears, along the backs of the legs and the belly. The hair will also appear silky and smooth, as opposed to wiry. This will indicate that a puppy is a long-coat German shepherd.
Research the American Kennel Club (AKC) standards to determine the difference in show standards between a long-coat and standard-coat German shepherd. The AKC does not deem a long-coat German shepherd acceptable as a show dog, due to the fact that it does not have an undercoat which diminishes its weatherproofing. This is viewed as a fault in the breed.