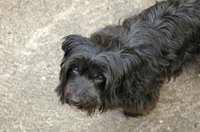 A dragon costume for your dog turns your pooch into a cute sidekick for the human who may be attending a costume party as a knight. Base your design around a pattern for a dog raincoat to create a simple but effective costume that will not cause your dog any discomfort. Such costumes are fairly simple and inexpensive to make as they only require felt pieces and a dog raincoat pattern, which can be purchased at your local pet supply store.
Things You'll Need
Measuring tape
Pencil and paper
Scissors
Dog raincoat pattern
Construction paper
Tape
Large piece of green felt
Glue
Four velcro pieces
Craft filler/stuffing
Yellow felt
Marker
Black felt
Red felt
Measure the dog's back from the collar to the base of the tail and from between the shoulder blades to the top of the breastbone. Record the measurements.
Purchase a dog raincoat pattern at your local pet supply store, and add or subtract a few inches to the pattern based on the measurements you took. Use construction paper and tape to add any necessary inches to the pattern as well as the head piece, which will sit on top of the dog's head, and the triangular tail. Look at pictures of dragons in storybooks if necessary to get the right look for the head.
Place the pattern on top of a large piece of green felt. Tape the pattern to the felt and cut around the pattern. Glue velcro pieces on the the bottom edges of the felt where the costume comes together. Glue the tail together, which will form a cone-like shape. Stuff the cone with desired filler/stuffing. Try the costume on the dog to determine if tailoring is needed.
Fold the yellow felt in half. Base the size of the fold on your dog's size and what will look appropriate. Draw triangular plates on the felt with marker leaving little space between them. Cut the triangles out of the felt. Glue the folded, cut felt plates together and glue the piece on the back of the costume (the green felt).
Cut pieces of yellow felt and smaller pieces of black felt to make the eyes. Cut out black pieces of felt for the nostrils and red felt for the tongue. Glue them to the head piece of the costume. Allow the costume to dry.