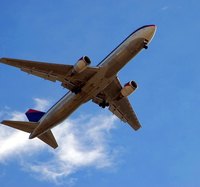 Meticulous research and inquiry will enable you to get the best price on airline flights. Visit websites of all the airlines and collate the ticket prices for a flight to the same destination on a particular day. Airline companies offer discounts and special prices on certain routes at particular times of the year. However, information on such offers might not be available on the airlines' websites. You must therefore contact a reputable travel agent to get the best prices on airline flights.
Decide on the date and time of journey a month or at least two weeks in advance for domestic airline flights and three months in advance for international flights. Most airlines offer discounts on advance bookings. Ticket prices increase as the travel date approaches and seats fill up.
Schedule your travel on weekdays, mainly Tuesday, Wednesday or Thursday. Flight occupancy is relatively less on work days, and airlines offer discounts and special prices to lure passengers. Opt for early morning or late night flights to get best prices.
Contact a travel agent or browse through a travel website like Priceline and opt for a package deal that will include your taxi fare and hotel stay. This will save you money and make your journey convenient.
Sign up for newsletters and email alerts on airline websites and travel websites like Yapta. You will receive alerts about any decreases in airfares, special offers and discount prices if you register on websites like Bing Travel. Certain airlines permit you to reschedule your journey or refund the difference amount when a change in airline ticket prices occurs.
Visit the office of travel agencies and ask for a group booking if you are traveling with family and friends. Most of the domestic airlines offer discounts on group bookings. The number of people required to qualify for a group booking varies according to the airline.
Get the onward journey and return tickets on different airlines after comparing the prices of various airline flights for the same destination. This will save you money by getting the best prices. You may end up paying more if you do not make inquiries and book a round trip with the same airline.