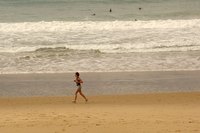 Your face is your introduction to the world. It is what people focus in on when you speak, smile or flirt. Makeup can help accentuate your beautiful eyes or help conceal dark circles, but when you find your face is rounder or looks heavier because of weight gain or water retention, makeup can only cover the excess weight. Do not fret -- there are ways to slim your profile and do this in a short period of time. You may even notice results in as little as a week.
Things You'll Need
Workout
Jim Karas, lifestyle expert, tells his clients it is not possible to spot reduce, but the face tends to be one area of the body that shows the results of weight loss first. Choosing a workout, learning about, and tailoring a nutrition plan to your needs puts you on your way to better health, a leaner profile, and a more energetic lifestyle. Implementing your workout and nutrition plan into your daily routine and keeping a record in a journal keeps you alert to your progress. It may take awhile according to your weight loss and fitness needs to reach your ultimate goals, but you will notice positive changes along the way that help to keep you motivated.
Drink at least eight glasses of water each day. This will keep water running through your body instead of depositing in areas like your face. When you do not drink enough water the body begins to hoarde the moisture that is already in your system causing water retention or bloating. Incorporate fruits and vegetables into your diet. They are water and nutrition rich as well as low in calories. Limit the amount of processed foods you allow in your diet. Processed foods are normally very salty and can cause your face to bloat.
Work the muscles in your face with this yoga exercise. The cheek lifter works face muscles and helps combat gravity. Make a big open mouth smile, open your mouth wider and form a long 'O,' fold your upper lip over your teeth, smile to lift cheek muscles up, place your index fingers on the top part of your cheek right under your eyes, relax your cheek muscles and let them return to original position, and smile again lifting the cheek muscles back up. This is called a cheek push-up. Do 10 repetitions.