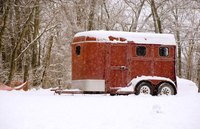 If you want to find out the value of your horse trailer so you can sell it, the Kelly Blue Book for horse trailers is the gold standard for obtaining an accurate value. However, Blue Books are expensive. You can get a free appraisal of your trailer just by searching online for a comparable model for sale. While this won't give you the most accurate value, it's a fast, free way to find out what comparable models are selling for.
Search
Write down all pertinent information about your trailer, including the year, make and model, as well as any special add-ons that were not standard when you bought it. The more horses the trailer can transport, the higher its value will be. In addition, amenities such as sleeping bunks and tack rooms will increase its value.
Inspect your trailer, inside and out, for any deficiencies, especially rusty, broken or unusable parts. Inspect the tires and electrical system to make sure they are in working order as these are the first things a prospective buyer will look at.
Gather receipts for all repairs you may have made to the trailer. Written receipts will help you negotiate a price once you find a buyer and will add value to your trailer if major repairs have been completed recently.
Browse the classified sections of major Internet horse websites. You can also check local classified Internet sites as well, such as Craig's List. Compare your trailer with the same make and model listed for sale online. This will give you a good idea of where to begin your pricing strategy. Take your trailer's individual condition and amenities into consideration during your search.
Take three to five representative price samples you found online, and average them. This should be your starting price. If you feel the prices are too low, you can adjust accordingly. Remember that you can always come down in price once you start negotiating with a potential buyer, but you can never go up.