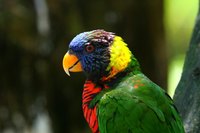 There is a great deal of controversy surrounding beak trimming in the avian community. Many people advocate that it should only be done by a professional while others maintain that it is basic care that every bird-owner should be able to perform. If you provide a proper diet and habitat for your bird, they will naturally trim their beaks on toys and cuttle-bones and you will never have to worry about the beak-trimming debate. If you do notice your feathered friend getting a bit long in the beak, having some basic information could help you decide your course.
Things You'll Need
Observe your avian vet trim your bird's beak several times before you attempt to do it on your own. Ask questions about proper length and shape as well as proper technique.
Hold your bird on its back with your forefinger supporting its head, and your thumb at the base of the beak. Be extremely careful. Birds are very fragile and must never be handled roughly.
Use a file to remove the excess length, paying careful attention to the shape. Be careful to avoid catching the tongue with the file. Work quickly and efficiently. This is a stressful procedure for your bird and should not be drawn out.
You can also use commercial beak clippers, which work much like nail clippers, to snip off the excess length at the end of the beak.