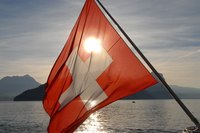 Many travelers in London are moving on to other destinations in mainland Europe, such as Switzerland. British citizens regularly travel to Europe for business and pleasure, and have paved the way for other tourists traveling to Swiss destinations. Getting there from London is not difficult, and several options are available. However, there are a few things you should know before you plan your trip so you can avoid as much hassle as possible and fully enjoy your trip to Switzerland.
Fly. Four main airports in London service major cities throughout mainland Europe, including Switzerland: Heathrow, Gatwick, Stansted and Luton. Catch a flight from any one of these airports to the Swiss cities of Geneva, Bern, Zurich or Sion. You can also fly into Basel-Mulhouse-Freiburg airport, which is located in France, about four miles north of Basel, Switzerland.
Take the train. Eurostar services Switzerland from London. From St. Pancras train station in London, the Eurostar train travels through the English Channel tunnel or "Chunnel" and stops in several French cities: first to Lille, and then to Paris. From Paris, the Eurostar stops at several cities in Switzerland: Bern, Geneva, Basel, Zurich and Lausanne. Ticket prices and routes from Paris vary according to the Swiss destination city. You may have to change trains, depending on your destination.
Drive. If you have access to a car, you can drive from London to Switzerland. From London, drive to Folkestone, in Kent County, England. Because the English Channel is only cross-able by boat or train, from Folkestone you must catch a ferry across the channel or use the Eurotunnel Shuttle, which is a train. Ferries and the Eurotunnel Shuttle accommodate passenger vehicles. Either method will take you to Calais, France, and from Calais, you can drive to Switzerland.