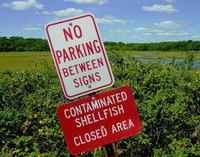 There are many home situations where cleanup of hazardous liquids may be necessary. Home painting projects, car leaks and repairs, and pest control are just a few. These products are hazardous to humans and the environment, and proper disposal is essential. The best way to clean up a hazardous liquid spill is with an absorbent material. Absorbent material is a special substance used to clean up hazardous liquids, such as paint, insecticides, oil and transmission fluids. Items considered absorbent include kitty litter, newspaper, sawdust or products made specifically for liquid cleanup.
Things You'll Need
Work gloves
Broom
Dustpan
Plastic heavy duty garbage bag
Trash can with lid
Contain the spill. Quickly place the absorbent material on the spill. Spread over the entire spill, focusing on the main area of the spill. Wait until the spill is absorbed into the material.
Sweep the contaminated absorbent material into a pile. Use small, controlled brush strokes. The pile should be close to but not in the area of the spill. Do not leave any behind.
Place the garbage bag near the pile of material. Wearing gloves and using the dust pan, sweep the material into the dust pan. Control spilling of the material from the dust pan by not overfilling it. Dump into the garbage bag.
Tie the garbage bag securely with a wire tie or the ends of the garbage bag. Confirm that the trash bag cannot be punctured or opened in any way. Place in a trash can with a lid.
Place trash can at normal pickup site on the next regular trash pickup day. If trash pickup is not available, carry the bag to your regular disposal site or the closest convenience center or landfill.