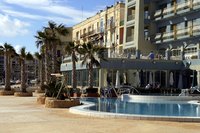 Sandals Resorts are beautiful resorts in the Caribbean. Their rates aren't the lowest, but with a bit of smart negotiating you can get your rate down to insider level prices. Enjoy the resort, a gorgeous room, free butler service, the spas and treatment centers, the included scuba diving, water sports and more without paying too much. Getting insider prices without knowing someone who works at the resort is possible with these tips.
Do your research on a few different online hotel booking websites. Find the lowest price you can, and then call the Sandals Resort and ask if they can beat it. Generally hotels need to pay hotel sites 10 percent to 20 percent commission and would be happy to give you part of that money and earn your business directly instead.
Ask for American Automobile Association (AAA) or Canadian Automobile Association (CAA) discounts. If you are part of a recognized company, ask them if they provide discounts for your company.
Book your room when it is not high season. Places like Sandals Resort often go for premium rates when they are booked, but are quite sparse at other times of year. Also, staying mid-week rather than on weekends tends to be more affordable.
Ask for a discount. Believe it or not, this often works if you are not calling during peak season.
If they won't give you a discount, try asking for bonuses instead. Ask for a free breakfast or a free massage instead of a price discount.