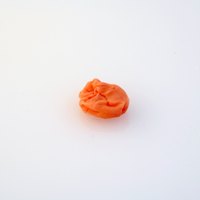 Stepping in gum is a nuisance most people deal with at least once. Although it's annoying, it is easily remedied. Do not throw your show away or ruin your rubber heel by scraping it with sharp tools. If the gum is sticky and gooey, trying to pull it off will likely make a bigger, stickier mess. Be patient and thorough and you will get all the gum off with no sticky residue.
Things You'll Need
Freezer
Plastic bag
Ice cubes
Butter knife or putty spatula
Lubricating spray or liquid, lighter fluid or dry-cleaning fluid
Liquid soap
3 clean cloths
Put your shoe in a plastic bag and set it in your freezer. Keep it in there for at least an hour. If the gum is not solid, put the shoe back in the bag and freeze it for another hour. If there is not enough space in the freezer, rub the gum with ice cubes until the gum is hard.
Pry the gum off the bottom of your rubber heel. Gently wedge the butter knife or putty spatula under the edge of the gum and lift the gum off in one solid piece. Gently scrape off any remaining pieces.
Spray any sticky spots on the rubber heel with lubricating spray and wipe off with a clean cloth or dab a clean cloth in lighter fluid or dry-cleaning fluid and wipe the sticky area clean. Dry with a clean cloth.
Wash the rubber sole with warm soapy water. Rinse and dry with a clean cloth.