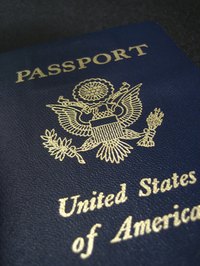 These days you can't even visit our neighbors in Canada without a valid passport, so whether you travel for business or pleasure, you must have one. The government requires first-time applicants to submit their documents in person at an agency or acceptance facility. Those who've previously had a U.S. passport can avoid appointments and long lines by reapplying via mail.
Things You'll Need
Passport
DS-82 application form
2 passport photographs
Personal check or money order
Large, secure envelope
Review the restrictions for mail applications to see if you're eligible to renew by mail. You must have had a U.S. passport in the past and should possess your most recent one. If it was issued before you turned 16 or you've had it for more than 15 years, though, you're out of luck and will have to go to a passport agency. The government also prohibits mail applications from anyone who has changed his name and lacks proper documentation.
Fill out form DS-82, available on the U.S. Department of State website at travel.state.gov/passport. Don't forget to sign and date the first page of the application.
Take two 2-by-2 inch color photos of your face. You can't wear a hat, glasses or any head covering unless authorized for religious or medical purposes. To ensure the images meet passport application standards, get them from a drugstore or large retailer like Target or Wal-Mart, which will quickly prepare your photos for just a few dollars.

Choose the passport book, card or both. If you plan to travel internationally by air, you're required to have the traditional book. The less expensive card, however, allows you to move by land and sea between the U.S. and Canada, Mexico, the Caribbean and Bermuda.
Pay the fees for your passport book and/or card with a personal check or money order made payable to "U.S. Department of State." Include your full name and date of birth on the front of the check. If you need a new passport in two to three weeks rather than six, the expected processing time, include extra for expedited service and overnight return shipping.
Place your most recent passport, check or money order, two photographs and any documents related to name changes in a secure envelope addressed to: National Passport Processing Center, Post Office Box 90155, Philadelphia, PA 19190-0155. For expedited service, however, ship to: National Passport Processing Center, Post Office Box 90955, Philadelphia, PA 19190-0955. Due to the sensitive nature of the documents, you should also use a traceable postal method, such as one that includes delivery or signature confirmation.