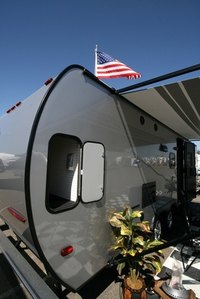 The population of vintage camper restorers is growing. Restored vintage campers will appreciate in value rather than depreciate. If the restoration is done properly, campers can actually be worth more restored than they were worth new. Restoration amenities may include sound systems, studies, guestrooms, and any number of other features. Determine if your restoration project will return the camper to its former glory or improve on it by customizing it to your needs prior to starting any restoration project.
Things You'll Need
Soft-bristle brush
Rust converter
Exterior paint
Painter's tape
Paint brushes and rollers
Vintage upholstery and curtain fabric
Wood for the framing and interior
Caulking for seals
Woodworking tools, including saw, screws, nails, hammer, drill, etc.
Vintage parts to replace damaged parts
Conduct a detailed inspection of the trailer before purchasing it. Ensure that the trailer is structurally sound.
Educate yourself on the trailer, including the original look and features of the trailer you are restoring. Plan out the results you are looking for in your trailer. Identify the materials you want to use and how you want the trailer to look when you are finished. Use the original structure in your restoration to reduce costs. Identify the items that need to be repaired vs. the items that must be replaced.
Search for structural problems and framing issues, such as rotted wood. Vintage trailers used real wood as the framing. Replace any framing that is damaged or broken.
Test the electricity in the trailer, and have it inspected by a professional. Hire a professional to update or fix any electrical problems in the trailer.
Test the plumbing systems, including the gray and black water tanks. Hire a professional or fix any plumbing problems you find. Ensure that the tanks are secure and free from leaks. Remove bacteria with a bleach flush.
Remove any parts of the trailer that were purchased and installed aftermarket if you want a true vintage restoration. Spare original parts can be found in junk yards or through vintage camper dealers. Advertise in the want ads for any parts you cannot find.
Clean all interior and exterior wood, including cabinetry and decorative wood. Repair or replace any damaged wood, and stain it to match the original wood. Repair and polish the stainless steel, removing any scratches or dents and damage.
Reupholster any damaged cushions and furniture and replace the curtains if they are not vintage. Replace carpeting, but maintain the camper's original style of carpeting, if possible.
Inspect the exterior of the camper and identify any rust or holes. Convert any rust using a rust converter after scrubbing it with a soft-bristle brush to remove any loose rust. Seal all seams, joints and vents. Replace any trim that is damaged or missing.
Replace or repair damaged doors, steps, locks and seals around the windows.
Test the propane hoses and replace them if damage is detected.
Test the trailer's jacks and replace them if they are damaged.