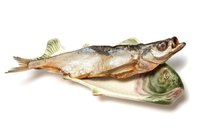 In some cultures, fish skins aren't discarded. They've been cured with urine by Alaskan and other Arctic natives to make boots, mittens, strong sewing thread or even parkas. The U.S. Department of Agriculture considers them an underutilized resource that could be used more frequently as food-grade gelatin that can be used as a binding agent. Some high-end fashion houses now use fish skin for bags, wallets and other accessories.
Things You'll Need
Fish skins
Dishwashing soap
Soft sponge
Glycerine
Acetone
Denatured alcohol
Soft-bristled brush
Baby powder
Plastic watertight bags
Remove the skin from the fish, working from the end of the head to the beginning of the tail, with a very sharp fillet knife. Let the skin dry a bit, then remove the scales by brushing against them with the back of the knife.
Wash the slightly moist skin with dishwashing soap, scrubbing it gently with a soft sponge or cloth to remove impurities that may cause problems during the curing process. Hang the skin until it is dry.
Use a soft-bristled brush to apply a curing solution of one-third glycerin, one-third acetone, and one-third denatured alcohol. You can also use some commercially prepared solutions, but they will be quite expensive and chances are good that you'll have to order them online. Hang the cured skin to dry.
Dust the skin with baby powder to absorb any excess moisture. Store it in a watertight plastic bag. You can take extra steps to prevent it from spoiling by adding a small bag of anti-moisture desiccant -- like those found in small containers of beef jerky -- and an oxygen-absorbent bag.