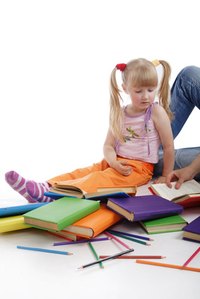 Many people strive for a job where they can be their own boss and work a flexible schedule. Running a business from home is the answer to today's increased commuting and childcare costs. In addition to bringing in a profit, selling children's books encourages the love of learning in young readers. Fortunately, with an array of choices, selling books for children from home is easier than ever.
Resell Second Hand Books on the Internet
Buy inexpensive second hand books at no more than 50 cents a piece and resell them on the Internet. Create your own website and list all the books currently available with up to date images. You don't have to employ a professional designer, use a free website builder such as Wix. Make sure you have a cost efficient courier service in place to guarantee swift delivery to your customers.
Ensure your business presence on social networking sites such as Facebook and Twitter, or start a blog. To strengthen your selling power, list your books on the Internet selling sites such as Amazon, eBay or AbeBooks.
Start the easiest way: sell your books to friends and family. Then, look for school events and reading events for children in your local area. Set up stalls at local community gatherings and markets. Think outside the box – create a children's book donation program in cooperation with a local business. If you run out of stock, launch an initiative for parents who wish to sell their used children's books and offer them a percentage of your sales.
Join a reputable Internet book selling site, such as Usborne. Although such companies usually charge a fee for your start-up kit, they offer training and guidance, which could be of great value if you have little or no experience in sales. Start reselling the books through home parties and progress to craft and holiday fairs, festivals and community days as well as mother's groups.
Many businesses that involve direct sales provide their members with an online store website service.