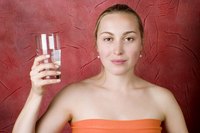 Water weight is caused by water that is retained in the body. This can be the result of poor nutrition or dehydration, for instance. Extra water weight is generally considered a bad thing as it is the result of an unhealthy body. But, there can be situations, such as sports weigh-ins, where you want to gain water weight to reach a specific number.
Eat foods that contain high amounts of sodium. This can be accomplished by consuming more processed foods and simply adding table salt to food. The salt will dehydrate your body, causing it to hold onto all water it receives.
Dehydrate your body by drinking very little water. This will cause your body to hold onto the water that it is currently carrying, plus any water that you drink.
Avoid exercise. This will reduce your body's respiration and transpiration abilities and cause you to retain water.
Drink large amounts of water. This only works for a very short-term gain, such as for a wrestling weigh-in. Drinking large amounts of water regularly will cause you to lose water weight.