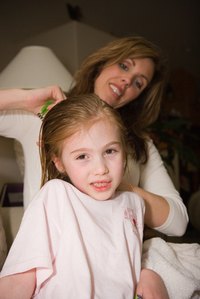 Castor oil conditions hair without leaving a greasy residue, and doesn't have to be washed out like olive and coconut oil. Because you can leave it in your hair, it makes a good protector against the heat from a curling iron. Use castor oil at least once a week as an extra conditioner to protect your hair from heat damage from curling, straightening and blow drying.
Things You'll Need
Mix together two parts water to one part castor oil. For thick, long or naturally textured hair aim for about a tablespoon of total liquid. For thin or shoulder length hair, make about a teaspoon of total liquid.
Rub some of the mixture between your palms and smooth it through the ends of your hair. For particularly damaged ends, focus most of the mixture on the ends. Rub a smaller amount lightly over your roots and the rest of your hair. Comb through your hair thoroughly to spread the mixture throughout. Dry hair will absorb more oil. Apply to wet hair if you're blow drying before curling.
Separate out a one-inch chunk of hair and grip it with the curling iron. Roll the curling iron toward your scalp and hold it there for several seconds. Release for a ringlet. For a looser curl, hold the end of the hair and wrap it around the outside of the barrel. Repeat until all your hair is curled.
Mist with hairspray to hold the curls in place.
Pour a tablespoon of castor oil into a spray bottle half full of water and shake thoroughly. Mist this onto your hair whenever it's feeling dry or frizzy. A light spritz every night before bed or before you blow dry your hair will keep it shiny and healthy even in the dry season.