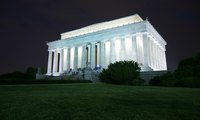 Bright floodlights snap on at dusk, casting a glow on the massive buildings and statues dedicated to the country's great leaders and humble warriors along the National Mall in Washington, D.C. Crowds of tourists thin, and nighttime visitors have a chance for quiet contemplation away from the hordes at the Vietnam Veterans Memorial or a playful romp up the steps of the Lincoln Memorial. A multitude of tour options exists; make your mode of transportation the starting point for your decision about how to tour the monuments at night.
Lace up Your Walking Shoes
Set your own pace with a walking tour of the monuments at night. Take Metro rail or bus to the Mall, but keep in mind that train service stops in the early morning hours. Some buses run round the clock. The National Mall and the memorials and monuments that line it stay open 24 hours a day, except for Christmas, and park rangers are available at most of them until the late evening. If you're touring in the summertime, expect high humidity, even after dark. Winters are moderate with occasional snowfalls. The mall is lovely in the spring and fall as flowers bloom or leaves change colors.
Leave the Driving to Them
Numerous companies offer nighttime tours of the monuments. Chariots for Hire has a DC@Night tour that starts at sunset and includes a stop for drinks and snacks on the Kennedy Center Terrace overlooking the Potomac River. A National Mall tour and a tour of sites relating to the Abraham Lincoln assassination are among the night tours led by guides from Free Tours by Foot. If you'd prefer a traditional bus tour, or a tour by trolley, check out Gray Line Tours or Old Town Trolley. Big Bus Tours lets you hop on and hop off their open-topped, double-decker bus at spots around the mall. Opt for the package that includes a night tour.
Take the Wheel
While parking near the monuments in Washington can be a nightmare, spots open up when the sun goes down. The city allows parking on Constitution Avenue after rush hour, putting visitors near the major monuments on the National Mall, as well as the Smithsonian Museums, and some parking garages stay open late. The Jefferson Memorial has a limited number of parking spaces, and spots along Ohio Drive and West Basin Drive are close to the Franklin Delano Roosevelt and Martin Luther King, Jr., memorials. Carry change for meters and pay attention to signs that indicate how long you're allowed to park at a particular spot.
Alternative Locomotion
Washington, D.C., is a bike-friendly city with bicycle paths and designated bike lanes. Capital Bikeshare has more than 300 stations across the city and surrounding suburbs where you can rent a bike for a day and return it to any station. Sign up for a nighttime Segway tour if you'd prefer to glide around the Mall. Even if you're not an experienced kayaker, you can take Boating in DC's safety class and then take a 90-minute tour of the monuments from the Potomac River that includes a circumnavigation of Theodore Roosevelt Island.