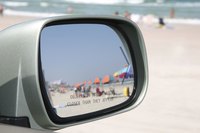 Jumping in the car and going wherever the road takes you is a fun way to see the sights along the Atlantic coast of the United States. From towering forests to sunny beaches and charming towns lifted from the earliest pages of American history, there's plenty to see along the way. Plan your trip ahead of time to transform your trip from a fun and spontaneous frolic to an amazing adventure you'll remember for a lifetime.
Decide on Your Transportation
While taking your own car may be your default way to road trip, renting a vehicle provides a sense of adventure and fresh new way to see the sights. Get a motorcycle endorsement on your driver's license and rent a hog for a 360-degree perspective of the scenery. Motorcycle endorsement requirements vary from state to state, so check the requirements in your home state in plenty of time to have it for your trip. Renting a convertible or Jeep are other ways to see the countryside without a roof overhead. Consider a spin in a motor home to have a self-contained place to sleep under the stars, whether in an RV park or tucked away in a national forest or other public land at a dispersed campsite of your choosing. Make sure to follow local regulations and determine whether a permit is needed before setting up camp.
Plan Your Route
Interstate 95 runs 1,907 miles parallel to the Atlantic Ocean from Miami, Florida, to Maine's border with Canada, giving easy access to hundreds of notable destinations along the way. Visit famous destinations along the route, or a short distance from I-95, including Cocoa Beach, Florida; Savannah, Georgia; Richmond, Virginia; Washington, D.C., and Baltimore, Maryland. Further north, New York, New York; Providence, Rhode Island; and Boston, Massachusetts, are but a few of the major tourist attractions along the way.
Pay Along the Way
Some stretches of the interstate in Maine, Delaware, New Jersey, New York and Massachusetts charge tolls, but all are on an E-Z Pass system that allows you to pay tolls without having to fumble for coins or wait in long lines. Obtain a transponder that attaches to the inside of your window online or from a retail store. You can add funds to your account balance as needed online. Remember to return your device once you no longer plan to use your account.
Timing Is Everything
I-95 can turn into the country's busiest freeway during morning and evening rush hour. Plan your day to include a lingering breakfast at a scenic restaurant and to see points of interest in the area where you've stopped for the night before hitting the road. An afternoon sightseeing trip and early dinner can help you avoid evening rush hour as well. Keep weather patterns in mind when making your plans. Summer storms along the Atlantic coast sometimes reach hurricane force, and snow can blanket some areas along the northern end from September through early May. Watch out for winter snow, sleet, ice and freezing rain in the southern areas as well.
Prepare Your Accommodations
A trip along the east coast will take you a minimum of several days to complete if you don't take a lot of side trips and make scenic stops. Better yet, plan a week or two to complete your trip to get the most bang for your buck. If you're renting a motor home, plan your stops according to the amenities you wish to have, such as full hookups. Make reservations ahead of time if traveling during summer or on holiday weekends as sites can fill up. If traveling by car, check out historic cabins managed by the National Forest Service or National Park Service, as well as bed and breakfast inns as an alternative to motels, but be sure to check out pet restrictions if you bring your furry friend.