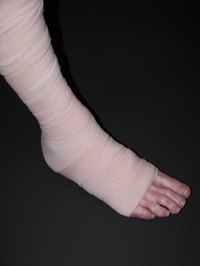 When you stretch and tear the ligaments in your foot, from a physical activity or a misstep, it results in a sprain. Not only is the sprain painful, it needs support so it can heal the right way. Don't wait to start taking care of your sprained foot -- or else it may suffer permanent weakness and be at risk for recurring injuries. Wrapping your foot properly is essential to aid in proper healing.
Things You'll Need
21 x 2 adhesive tape
Protective brace (optional)
Hold your foot at a 90 degree angle. Take the end of a rolled elastic bandage and place it on the side of your foot, where your toes meet the sole. Hold the edge of the bandage in place with one hand and wrap the bandage underneath your foot, covering the ball of your foot with your other hand. Pull gently on the bandage to remove the slack.
Wrap the bandage up and over the top of your foot and back down and around the bottom to cover the arch. Keep tension on the bandage so it won't have any slack.
Bring the bandage over the top of your foot and around your ankle on the opposite side. Wrap the bandage in a figure-eight pattern back over the top of your foot, underneath the opposite side, back over the top on the opposite side and around your ankle. Overlap the bandage as you wrap -- the goal is to wrap the entire foot minus the heel. Keep tension on the bandage so it's secure, but not uncomfortably tight. Keep repeating the figure-eight pattern until your foot is completely wrapped and the bandage ends several inches above your ankle.
Secure the end of the bandage with adhesive tape or use the clip that came with the elastic bandage.