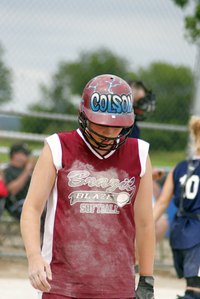 The most economical way to bring your custom T-shirts to market is selling them directly to stores who will then resell the clothing at a marked-up price. This system bypasses the need to rent your own retail space, which will free up capital to invest on creating your custom T-shirts and building your brand. "Some clothing, accessory, and general merchandise stores also are moving toward obtaining goods directly from the manufacturer, bypassing the wholesale level completely," according to the Bureau of Labor Statistics. This is a positive sign for smaller custom T-shirt manufacturers wanting to sell directly to stores.
Build a brand. Printing a thousand T-shirts that have no theme or targeted demographic will get you a lot of used rags. "Compared with department stores, clothing and accessory stores sell a much narrower group of items," according to the Bureau of Labor Statistics. Before you print a single shirt you should think about the intended selling price, age demographic, group and industry that would purchase your shirts. For example, if you are interested in creating custom T-shirts for youth sports teams you know, your brand image must incorporate a moderate price point, is targeted to children and teens, will be sports orientated, and you will be selling to local, state or national youth leagues.
Make a list of potential buyer stores. Once you have decided on a brand image, this will be a more productive step. It is a waste of time and resources attempting to sell to a store that will never purchase your product. After you have made a list, visit the stores personally, browsing what type of T-shirts they have for sale. If you are printing custom T-shirts for tourists, head to tourist-orientated retail stores, observing what products catch the eyes of customers, and which products they actually purchase.
Research other custom T-shirt makers in the area. Find out what type of shirts they sell, how they perform the custom printing and the prices. This will give you an idea of the competition you face and how you can compete, whether you offer higher-quality T-shirts or more economically friendly T-shirts.
Create sample products and a price list. Sample products should represent what your finished T-shirts will look like. A price list should include the per piece price and the price for varying quantities (100, 500, 1000, etc.). The price list should also include how much the custom printing will cost. Printing costs should include the price for printing on one or two sides of the T-shirt, and the cost for printing in one, two, three or four colors.
Find out who is in charge of buying products at your targeted stores. A polite phone call is usually all that is needed. If you are targeting small stores, usually the owner is the one who makes all the purchasing decisions. If the store is larger, it will usually have a purchasing department.
Contact the store. If it is a small store or an organization such as a local nonprofit, the best approach is usually a personal one. Make a visit with your samples and pricing list. Have a pitch ready, but be prepared to alter your pitch to accommodate the personality of the person to whom you are selling. If you are attempting to sell to a large store, you will want to make contact by phone. Do not email on your first attempt as emails are easily ignored.