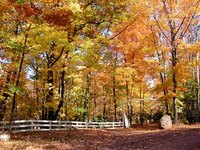 Tree farms have an almost romantic aura to them. Tom Stone, a Michigan DNR official, waxes poetic about how tree farms are about life, not profit and that the farms are part of the family, not owned by the family. Forests cover nearly 52 percent of Michigan. Michigan tree farms provide Christmas trees, saw logs for lumber, pulp trees for paper and raw materials for the log-home industry. A tree farm in Michigan is a privately owned forest and its owners must be committed to sustainability, conservation, biodiversity and watershed protection.
Find a tract of forest that contains a diverse amount of trees. Determine whether it has the trees you want to manage and whether it contains other natural features such as ponds, wildlife habitats or wetlands. Review the surveys of the property then take several walks through it. Most tree farms are found in the northern part of the state or in the Upper Peninsula. Contact the Michigan Forest Association when looking for property. They will have information about plots where you can establish a sustainable tree farm.
Create a business plan. Tree farms are more than just plots of pine trees grown for Christmas sales. Michigan tree farms may also include oak, birch (though white birch are protected and have restrictions on being cut down), maple and pine.
Review the standards of the Michigan Well-Managed Forest Certificate. Determine whether you want your forest to be a certified forest and what you would need to do to meet those standards. Meet with the area DNR representative.
Determine the original cost basis of your forest. This will help when you apply for tax breaks or if you want to participate in forest-management incentive programs. Contact a forestry consultant or county extension official to help you determine the cost of timber on your land. This will help you determine capital gains for your taxes later. Often the original basis is the same as your purchase price minus the cost of the land.
Review the forestry incentive programs and determine which ones you qualify for. Michigan county farm agencies have cost-sharing programs for forest owners. You may be able to have the government pay for 65 percent or more of such activities as tree planting, improving a strand of trees, preparing a site for regeneration or installing permanent vegetative cover in areas where erosion is a risk. Federal reforestation tax incentives allow for up to $10,000 of reforestation costs every year to receive a 10 percent investment tax credit. It also lets you amortize the expenses over seven years.
If your commercial forest crop spreads out over 40 acres, you may qualify for the Michigan commercial forest act. You must open your land to hunting and fishing and be harvesting timber as a crop. If you are, you can be exempted from property tax on that land.
Determine what type of harvesting system you will use. Common harvesting systems include clear cutting, seed tree, shelterwood and selection.