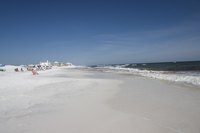 Florida had more than 80 million tourists in 2009, according to Visit Florida. People often visit certain cities within the state, such as Daytona Beach, because of their beaches. Many places in Florida, including Fort Lauderdale, Key West, Miami, Tampa and Tallahassee, offer water sports such as snorkeling, scuba diving, sailing, windsurfing, deep sea fishing, swimming, jet skiing, canoeing or kayaking. Florida offers a variety of houses on the beach to stay in with your family or friends during a vacation.
Things You'll Need
computer with internet
cell phone or telephone
pen and paper
rental contact
debit or credit card
Vacation House Rentals
Decide on the city in which you want to rent a house on the beach and the time in which you plan to rent it. During certain times of the year, such as March and April, you may have a harder time renting a house in certain cities, such as Daytona Beach, Miami or Key West. If you want to rent a vacation house with a group of friends from college, consider popular destinations such as Fort Lauderdale or Miami, which feature an assortment of bars and clubs. For vacations with your children, look at houses in family-friendly places such as Merritt Island, Seagrove Beach, Cape Canaveral, Clearwater Beach, Vero Beach or Port St. Lucie.
Use the Internet to research what different areas in Florida have to offer. Use chamber of commerce or convention and visitors bureau websites to try to find out about people or companies that regularly rent out vacation homes and different area attractions. You may also want to talk to real estate agents in Florida to find out about rental units in certain areas and to compare prices.
Ask friends or family members about vacation homes on Florida's beaches, if they have recently gone to or regularly travel to Florida, to find out if they know someone who will rent out their private beach residence to you. You may get a better deal going through friends and family, but you will likely have to deal with a homeowner instead of an established company.
Narrow down your search based on factors such as price, location, housing size or amenities or nearby attractions. Compare what two or more houses have to offer, looking at descriptions and pictures if possible. Vacation homes in some areas, such as New Smyrna Beach or St. Augustine, often cost less than those in cities such as Naples or Key Largo. If you are staying for more than a week, find a vacation house with a fully-equipped kitchen and a living room with amenities such as a TV or a sofa. For a vacation with kids, consider vacation homes with pools, hot tubs or play sets.
Contact people or businesses renting out vacation houses, by phone or email, to talk about renting their units or to find out more information about the beach houses before making a final decision. Discuss topics such as price and rules and regulations before renting out a vacation house. You likely will have to sign a rental contact and put down a security deposit to rent a house, especially if you are dealing with a company. Understand and negotiate on who pays for certain bills, such as utility, gas, heating, cable and Internet service bills, before renting a house, according to Investopedia.