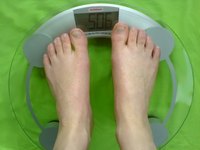 Reducing your weight naturally will take a commitment to eating a proper diet and getting a regular dose of exercise. Trying to lose a large amount of weight in a short time by going on a restrictive diet should be avoided. According to the Anne Collins website, fad diets eventually slow down your metabolism and lead to weight gain because the body refuses to lose weight out of fear of starvation. To reduce your weight and keep the weight off, there are several lifestyle adjustments you can make.
Consume less calories than you currently do to maintain your present weight. The National Library of Medicine states that you should reduce your daily caloric intake by 500 to 1,000 calories for a weight loss of 1 to 2 lbs. per week.
Split up five to six, smaller, nutritious meals over the day by eating every three hours. Feeding your body constantly will fire up your metabolism and keep cravings at bay. Avoid simple carbohydrates, sugar and saturated fats. Eat foods, such as brown rice, whole-wheat pasta, olive oil, turkey, fish, vegetables and fruits, and make water your main beverage.
Consume your food slowly because it takes up to 20 minutes for your brain to send out signals that you are full. Take small bites and chew thoroughly.
Incorporate both cardiovascular and strength training exercise into three to five days of the week. Cardiovascular exercise, such as running, swimming and biking, will burn calories and fat and jump start your metabolism. An all-over weight training routine will increase muscle tissue which activates the metabolism until long after your workout. Build up the amount of days you workout according to your fitness level, but give your body a day of rest in between workouts.
Get seven to nine hours of sleep per night. Don't deprive yourself from sleep. According to the Shape Fit website, insufficient sleep can lead to weight gain because hormones produced when you sleep manage metabolism and appetite. Lack of sleep disturbs this process resulting in cravings and overeating.
Drink green tea daily because according to the "Redbook" magazine website, it speeds up your metabolism.
Don't let stress and anxiety get the better of you because it leads to the release of the stress hormone cortisol which is associated to fat gain, especially in the stomach area. Try meditating, breathing deeply and delegating duties to reduce stress levels.