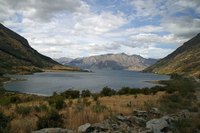 New Zealand has a thriving tourist industry. With a landscape combining sandy beaches, forests, fjords and snow-capped mountains, it offers a range of attractions for visitors who like to explore the outdoors. Adventure, sightseeing and relaxation are all options for tourists, with many choosing to enjoy an extended stay. Tourist visas are available for those wishing to explore the country, and you can obtain one by ensuring you meet the eligibility criteria and follow the correct application process.
Check the Immigration New Zealand website at Immigration.govt.nz to see if you need a visa. Australian citizens do not need a visa, while British citizens can visit for up to six months without a visa. You don't need a visa to enter the country if you plan to stay less than three months and are from a visa-waiver country. These countries include the United States and South Africa. You will still need to provide evidence of onward travel arrangements and prove that you can fund your stay.
Use the Visitor Visa Guide on the Immigration New Zealand website to help with your application. This explains the different type of visas available and application criteria along with costs. The guide also provides guidance on how to fill in each section of the application form.
Complete the correct form as detailed on the Immigration New Zealand website. As a tourist, you should apply for a visitor visa. You will need to provide all the requested information plus the required fee, and file your application at the correct office. The website will provide information on visa costs and where to file the application.
Gather evidence to support your visa application. Check also whether you need to provide a medical certificate if you plan to stay longer than six months. You must provide evidence that you are in good health and of good character, and provide written confirmation of onward travel. You must also show evidence of available funds of NZ$1,000 per month or NZ$400 if your accommodation is pre-paid. Ensure that your passport is valid for three months past the date you are due to leave New Zealand.
Apply to extend your stay as a tourist before you reach the end of the nine month stay allowed on a visitor visa. You may be able to stay a further three months if you can show that you can support yourself financially and haven't worked or been sponsored. Alternatively, if you leave New Zealand for nine months you can then re-enter as a visitor.