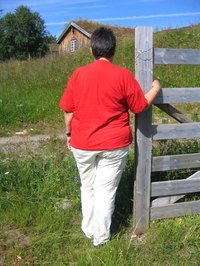 Losing weight can be challenging at any age. Even if you're 60, however, you can embark on a healthy diet and exercise regimen. Losing the extra pounds can give you a new lease on life, making you feel more young and spry -- and giving you energy that you haven't had in awhile.
Exercise more frequently. This can be as simple as climbing the stairs at the mall rather than taking the elevator. However, if you want to burn more calories and gain muscle, develop an exercise routine such as walking briskly for at least 30 minutes four or five days a week. You may also try water aerobics, step aerobics or ballroom dancing for a heart-pumping, age-appropriate workout. Adding strength training twice a week is effective too, according to the Mayo Clinic. Hire a personal trainer for a couple hours so that she can show you exactly what exercises are right for your weight loss goals.
Set a weight loss goal. In coordination with your doctor, decide on what a healthy weight is for you. Permanent, healthy weight loss usually results from a steady, slow loss. Adapt your new diet and exercise habits to your likes, dislikes and background, according to womenshealth.gov. Doing so will make sticking with your new lifestyle easier because the changes will not seem so drastic. For example, if you love Mexican food you may wish to substitute low fat or fat-free sour cream for the full fat variety on tacos, rather than foregoing tacos altogether.
Make smart food choices. Eat more whole grains, fruits, vegetables and lean meats. You must eat less calories per day to lose weight -- but decrease your caloric intake moderately. Limit your intake of fats, especially saturated fats, which increase your chloresterol level and consequently your risk of heart disease. Saturated fats are found in beef, pork and chicken, as well as ice cream and whole milk dairy products. Increase your consumption of calcium to prevent osteoporosis. Good sources of calcium include dairy foods such as milk and low fat cheese, as well as green vegetables like bok choy and broccoli -- as well as salmon.
Join a support group -- even if it's just friends and family. A support group can inspire you to persevere when your weight loss routine becomes challenging.