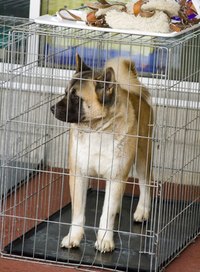 Dog crates can help a dog learn discipline and offer a safe place for the dog to retreat to. When you must leave your dog in its crate, it is imperative that you always leave the crate in a place where your dog can remain at a cool and comfortable temperature. How you keep the dog crate cool will depend on the type of crate, the breed of dog, and the resources you may already have on hand.
Things You'll Need
Dog crate
Cotton sheet (optional)
Fan (optional)
Internet access (optional)
Place the crate in a location of your home where it can come into direct contact with a cool breeze. This will not be necessary during the winter months. Acceptable locations could include the base of an open window or in front of a drafty door.
Remove any coverings that may be over the outside of the crate to allow for maximum airflow in and through the crate. Remove any heavy bedding or blankets in the crate. Replace the covering of the crate with a breathable material, such as small cotton sheet.
Install a dog crate fan, which you can find at retail pet stores or on the Internet. Provide your dog with a water bottle with fresh water attached to the outside of the crate door, with the spigot facing the inside of the crate.