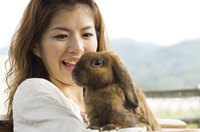 Rabbits can get fleas just like cats and dogs, but eradicating the parasites from your bunny requires a process that is different from that used for other household pets. Some flea medications are so strong that they can actually kill your rabbit if not used properly.
Identify the Flea
Rabbits can get two types of fleas -- the cat flea and the rabbit flea. Cat fleas are most common and are identified by looking closely at your rabbit's parted fur and skin. Rabbits don't always scratch like dogs when they itch, so you'll likely identify cat fleas via grooming or a vet visit. The rabbit flea is easier to identify, as it sticks primarily in and around the edges of your bunny's ears. The cat flea typically requires a topical medication; most minor ear problems can be treated by wiping the ear surface with mineral oil until the fleas are gone.
See Your Vet
Other parasites, like mites and lice, can be mistaken for fleas, so take your rabbit to the vet for proper diagnosis -- do it immediately if patchy fur loss, swelling or irritation is visible. If your vet diagnoses fleas and you don't want to deal with it yourself, ask the vet for a flea bath or dip. A trained medical professional will be able to use a formula specifically designed for rabbits.
Pick a Medication Treatment
If you're familiar with flea infestation and are comfortable taking on flea removal yourself, choose your product carefully. According to veterinarian Cat Henstridge, Advantage flea treatment and Xenex Ultra Spot-On are both acceptable commercial products that will rid your rabbit of adult fleas as well as larvae and eggs. Dr. Dana Krempels of Miami University recommends topical treatment with a drug such as selamectin or the injectable ivermectin. She strongly warns against using products containing fipronil (Frontline), permethrin or pyrethrin. Always follow a product manufacturer or vet's directions on medicine use based on your rabbit's size, weight and age to ensure appropriate, safe and effective application.
Clean Hutch and Bedding
Thoroughly clean your rabbit's hutch and replace his bedding before putting him back inside. Flea eggs can remain in bedding and reinfect your pet. If your rabbit is housed with other rabbits, chances are they have fleas and will need treatment as well. Additionally, ensure that other household pets living in the vicinity of your flea-infested rabbits haven't come in contact with fleas themselves.