Las Vegas is a desert oasis where the attire varies as greatly as the weather. Depending on the hotel, time of year and activities planned, what you pack for the Vegas trip can range from extremely casual to high-end apparel. When considering how to dress for your Las Vegas trip, aim to pack a variety of clothes so your outfits won't limit what you can and cannot do in the city.
Things You'll Need
Suitcase
Casual clothes
Formal clothes
comfortable walking shoes
formal shoes
sunscreen
moisturizer
ID card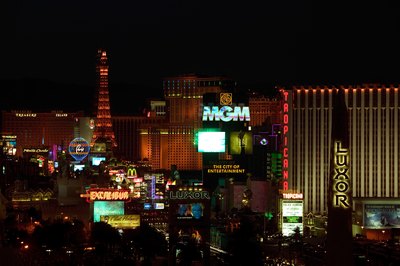 Step 1
Pack casual attire in your suitcase for walking around the Las Vegas Strip. Take note of the weather forecasts predicted for your visit, but know that summers in Las Vegas can have temperatures over 100 degrees during the day, and winters with frequent rain and cold weather. The Strip itself is 4.2 miles long, not including the distance in exploring inside the hotels, therefore casual shoes will come in handy throughout the year, with sunglasses advised for afternoons outside.
Step 2
Gambling allows for very casual attire, as long as shirts and shoes are worn at all times. At night, many guests decide to dress up and wear jeans, slacks and dresses when at high-end tables including poker and craps. The average attire worn within a hotel depends on the facility itself, but a dress code is not enforced.
Step 3
Dressing for a Las Vegas show depends on the show itself. Many afternoon performances allow for comfortable attire including shorts and tank tops. For high-end shows including the Cirque du Soleil, and concert performances many hotels produce, dressing up is encouraged. Nice pants, slacks, skirts or dresses are advised, although a dress force is not enforced. Consider bringing along a light dress jacket as well to remain comfortable during a sit-down performance that blasts air conditioning, and to remain warm while walking back to your car or hotel afterwards.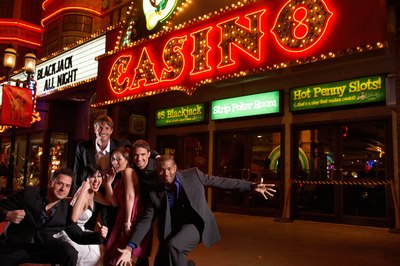 Step 4
Dining attire depends specifically on where you will be eating your meal. Many hotels have food courts featuring chain-restaurant options where the dress code is casual, this extends to hotel buffets as well. When dining at a high-end restaurant however, dress up to avoid being under dressed. Some fine-dining establishments require a specific dress code to be upheld in order to be seated, including not allowing sneakers, or sandals. Call ahead to the restaurants you're considering dining at for the specific dress code requirements. Ladies, pack a skirt, dress pant, or modest dress for dining, while gentlemen should consider nice dress slacks and a suit jacket.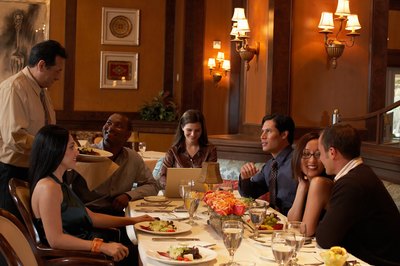 Step 5
Nightclubs and lounges often have a dress code that the doormen strictly enforce. For men, T-shirts, torn clothes, sandals and hats should be left at home, while collared shirts, dress jackets, fine jeans or pants along with clean closed toed shoes are recommended. Ladies have slightly more leeway in appearance, with glamorous skirts and dresses of any length allowed. Women tend to wear high heels at night, but if you have a long night of dancing or bar hopping in mind, consider a smaller heel or even a nice pair of close-toed flats for the night out on the Strip.