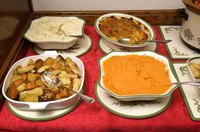 Every culture has dishes it considers as soul food, familiar ethnic foods that are traditional at family and social gatherings. However, the term soul food is a popular term coined by southern African Americans to describe the food they cook on a daily basis. Cooking soul food for banquets is becoming more popular because the food is filling and good. Cooking soul food is relatively easy for the average cook because soul food recipes are easy to follow. Here are some popular dishes that will sure to be raved about at any banquet.
Make a list of dishes for the client so you will know how many people you will be serving and what type of dishes are preferred. A soul food menu includes a choice of meat, side dishes, vegetables and bread; a dessert tops off the meal. Sweet tea and freshly squeezed lemonade are popular beverage choices.
Cook your meats. Popular meat dishes include fried or baked pork chops, barbecue beef short ribs or pork spareribs, fried chicken or baked barbecue chicken, turkey wings and gravy, or glazed ham; fried chitlin's and pigs' feet are also common. Seafood would include fried whiting or fried catfish, salmon croquettes or seafood gumbo.
Prepare your vegetable side dishes. Well-liked sides include fried or boiled cabbage, yellow squash with onions and rice, coleslaw, fried okra or stewed tomatoes and okra, corn on the cob, collard or turnip greens, string beans with ham, or fried green tomatoes.
Make your other side dishes. Some choices are macaroni and cheese, potato salad, black-eyed peas and rice, red beans and rice, cornbread stuffing, pinto beans and ham hocks, candied yams, corn pudding, giblet gravy and chicken dumplings.
Bake your bread. Cornbread is the usual choice that garnishes the table, however biscuits are often requested. Cracklin' cornbread and hush puppies are favorites as well.
Prepare your desserts. This is challenging because soul food desserts are the true test of the cook's skills; the dessert is supposed to make you pull back from the table and loosen your belt. Dessert choices are deep dish apple pie, peach cobbler, banana pudding, rum cake, golden coconut cake, three-layer caramel cake, chocolate layer cake, pound cake, and the much-fought-over sweet potato pie.
Allow the staff to serve the banquet guests instead of letting the guests serve themselves buffet style. Southern hospitality is centered on making your guests feel at home. When your staff serves the guests, it makes them feel as if they are special and are about to eat a meal that will have them begging to take a plate home.