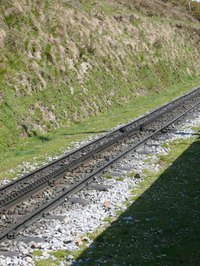 If you're planning a trip to Europe, you may be considering taking the train when you are there. Europe has Eurostar, a high-speed train that services England and France, among other countries. The Eurostar gives travelers a fast alternative to flying between London, England, and Paris, France. The ride is 307 miles and takes about 2 hours and 15 minutes from London to Paris, traveling at 186 mph. Eurostar offers a comfortable ride with sightseeing along the way, as the train goes through the countryside of Kent, England, and Northern France.
Things You'll Need
Passport or Identification cards
Visit Eurostar's website to select and pre-purchase your ticket using your credit card. Alternatively, purchase your ticket at London's St. Pancras International Station.
Arrive at St. Pancras International Station in London at least 30 minutes prior to your selected departure time.
Prepare for a security check at the station. Have your passport or identification cards handy.
Board your train when you hear your boarding call. Follow the signs to reach your platform. Carry on your luggage, there is no restriction in the sizes.
Find your seat. Plugs are available on board to recharge and use your laptops and phones. Purchase snacks and beverages on board if needed.
Arrive at Gare du Nord Station in central Paris, France. Grab your luggage upon leaving the train.