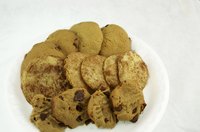 Applesauce is a healthy alternative to sugar in cookies not only because it reduces the amount of simple sugars, but it also naturally adds nutrients such as zinc, vitamin C, magnesium and folate. Applesauce is relatively low in sugar with only 23g of sugar in 1 cup, while white table sugar contains 192g in 1 cup. Although applesauce contains sugars, they are natural sugars. The simple sugars that come from white table sugar cause a spike in blood sugar levels and are stored as fat by our bodies unlike natural sugars, which break down more slowly and create a gradual increase in blood sugar, making it easier for our bodies to burn the calories.
Things You'll Need
1 cup flour
1 tsp. cinnamon
1 tsp. baking powder
1/2 tsp. salt
1/2 cup chopped walnuts
1 cup quick oats
1 cup raisins
1 cup applesauce
2 eggs
1/2 cup vegetable oil
1 tsp. vanilla extract
Small mixing bowl
Large mixing bowl
Spoon
Whisk
Measuring cups
Measuring spoons
Cookie sheet
Cooking spray
Preheat the oven to 375 degrees Fahrenheit.
Mix the flour, cinnamon, baking powder, salt, walnuts, oats and raisins together in a large mixing bowl.
Whisk together the applesauce, eggs, vegetable oil and vanilla extract in the small bowl.
Gradually add the wet ingredients to the dry ingredients while stirring with a spoon. Blend together completely until there are no remaining dry ingredients.
Spray the cookie sheet with cooking spray and spoon the dough about 2 inches apart on the cookie sheet.
Bake the cookies in the oven for about 10 minutes and allow them to cool slightly before removing them from the pan and serving.