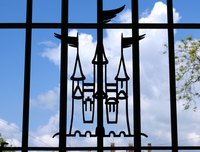 Cinderella's Royal Table is the restaurant inside of Cinderella's castle at Walt Disney World in Orlando, Florida. Guests of Cinderella's Royal Table choose between breakfast, lunch or dinner with your favorite princesses. Cinderella, Belle, Sleeping Beauty, Snow White, Jasmine, Ariel and Tiana each dine with you during your meal, all stopping by your table for photos, autographs and to talk to you and your little ones. Reservations at Cinderella's Royal Table book very quickly so you want to book your meal with the princesses as far in advance as possible.
Make Reservations Online
Visit the Walt Disney World Dining Reservations website (see Resources).
Locate the drop-down menus and choose "Magic Kingdom" in the menu that asks which location you'd like to make a reservation. Choose "Character Dining" under Cuisine or Dining Experience. You can also enter the name of the restaurant in the available area.
Enter the date you'd like to dine, the time of day and the number of people in your party. If children are in your party you will be asked to note the age of each child. This is because certain restaurants, Cinderella's Royal Table included, require prepayment through your credit card and children's meals are less expensive and children younger than two eat for free.
Click "Search" and view the availabilities for your selected dining date and time. If no reservations are available you can try a different date and time. To book available reservations choose the option to "Book Now." From here you will input your credit card information, personal information and your contact information. Confirm your reservation and click "Submit." Keep a copy of your confirmation page for your records.
Make Reservations by Phone
Book dining reservations at Cinderella's Royal Table by phoning the Disney Dining Reservation's line.
Speak with the Disney Dining Reservations specialist about booking a meal at Cinderella's Royal Table. Provide the representative with your desired dates and times and wait while he searches for an available time.
Provide your credit card number, name, address and contact information to book your dining reservation. Write down your confirmation number for your records.