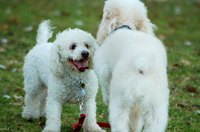 More than 20 percent of dogs suffer from an allergy of some description. Allergies typically fall into five broad categories: contact allergies; those that are diet related; allergies caused by parasites, such as fleas; allergies induced by inhalation; and allergies caused by bacteria. Contact allergies are more common after a poodle's coat has been cut for show or other purposes. Show cuts such as the continental or English saddle expose a fair amount of skin, which predisposes allergic dogs to skin outbreaks.
Things You'll Need
Steam cleaner
Hypoallergenic laundry detergent
Hypoallergenic dog shampoo and conditioner
Vitamin E cream or oil
Flea powder
Fogger
Discontinue using your regular brand of carpet cleaner if your poodle has developed a contact allergy from lying on the carpets. Have the carpets water steamed cleaned instead.
Discontinue using your regular laundry detergent if your poodle has developed a contact allergy from lying or sleeping on its dog bedding. Switch to a hypoallergenic brand that does not have a fragrance.
Purchase only hypoallergenic dog shampoos and conditioners for your poodle. Always clean the bath to remove any residue of human shampoos, soaps, bath salts or oils before washing your poodle.
Rub Vitamin E into your poodle's skin after it has developed any type of contact skin allergy.
Eradicate fleas in your home and garden by applying an appropriate powder or using a fogger.
Bathe your poodle with a flea shampoo or apply flea preparations to the poodle, unless these cause an allergic reaction.
Approach your veterinarian to administer a steroid injection to the poodle, to relieve the intense itching and to reduce any swelling that has occurred from flea bites.
Stop feeding a commercial diet if your poodle develops a food allergy.
Offer a bland, but balanced, diet by giving your poodle the boiled white meat of chicken. Remove the skin and de-bone. Add boiled rice and a sprinkling of salt to the chicken.
Add a new food item to the chicken diet every two weeks. Remove the item from the diet if the poodle has an allergic reaction it.
Approach your veterinarian for anti-inflammatory medications if your poodle develops allergies to secondary cigarette smoke or pollen.
Approach your veterinarian for an antibiotic if your poodle develops an allergy to normal skin bacteria. Staphylococcus bacteria are found on the skin of dogs and do not cause a problem in animals with a healthy immune system, but can become a problem to individual poodles that are hyper-allergic.