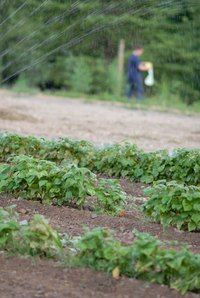 Troy-Bilt recommends removing the wheels on its tillers after every 10 hours of service to clean the wheel shaft of any built-up dirt and debris. This maintenance task can ensure against premature wear to the shaft and the oil seals that help it spin and move the unit forward. Removing the wheels also gives the tiller owner an opportunity to inspect them and make sure they are properly inflated at 15 to 20 psi.
Things You'll Need
Socket wrench
Wood block
Rag or damp towel
Place the rototiller on a flat surface and detach the spark plug wire to ensure against accidental start-up.
Push the engine compartment onto a sturdy wooden block so that the wheels are no longer touching the ground. Troy-Bilt recommends putting the block under the transmission.
Loosen the hex bolt and lock nut that holds the wheel to the wheel shaft. Remove the wheel. Repeat this process for the other wheel.
Clean away debris from the wheel shaft with a stiff brush and damp towel. Apply a fresh coating of grease to the wheel shaft.
Replace the wheels in the reverse order of how they were removed. Reattach the spark plug wire and lower the tiller from its perch on the wooden block.