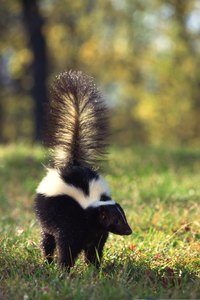 Despite the fact that skunks are easily identifiable by the broad white stripe extending down their backs, your dog may not have gotten the memo about avoiding these olfactory-offending critters. When your dog shows up stinking like the loser in a skunk battle, you might be inclined to reach for the tomato juice, but it might not do the job as well as you think.
Shampoo, Rinse, Repeat
If your dog has been sprayed by a skunk, the smell likely will reach you before the dog does. Try to isolate him outside, and bathe him there if weather permits. If his eyes are irritated from the skunk's spray, rinse them immediately with water. Fill a small tub or bucket with tomato juice, and pour the juice over your dog using a bowl or cup. Tomato juice won't neutralize the odor, but the assaulting chemical smell of sulfur gradually will be washed away by the juice, and eventually your nose will adapt to the smell. Bathe your dog immediately after using the tomato juice. For a more effective neutralizer, consider mixing 1 quart of 3 percent hydrogen peroxide with a 1/4 cup of baking soda and a teaspoon of dishwashing liquid. This will neutralize the odor. Rub the mixture into your dog's fur and rinse well. Don't leave the mixture on too long as it may bleach the color from your dog's fur.