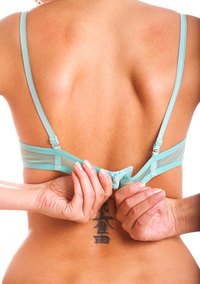 Standard cup sizes range from AA to J. Women's cup sizes can change throughout the years because of factors such as fluctuating weight and pregnancy. According to the website Bare Necessities, nearly eight in 10 women wear the wrong bra size. Your cup should never spill over or have gaps. When unsure, measure your bra size to make sure you are wearing the correct size. You can measure your chest with a flexible measuring tape to determine your bra cup.
Put on a comfortable bra without padding or minimizing properties when measuring your cup size. Grab your measuring tape and stand up straight. With your arms at your side, wrap the tape around the widest part of your back and around the the fullest part of your bust. Your bust apex should be midway between your elbow and your shoulder when wearing a bra.
Make sure the tape is touching, not binding. Some women have one breast larger than the other. If this is you, put some type of padding in the cup of the smaller breast to even it out with the other breast before you take your measurement. Round to the nearest even number, meaning go to 36 inches if your number is 35.5 inches or 34 if the number is 34.5 inches. Record this number.
Measure your band size. Place the tape around your rib cage, right under your bust. Consider having a friend doing this for you as it is difficult to get an accurate measurement on your own. Round up or down as your did with the cup measurement and record this number.
Subtract your band-size measurement from your cup-size measurement to determine your cup size. If your band-size number is one size smaller than your cup size you are an A cup. Two sizes smaller is a B cup, three sizes C, four sizes D and so on. For example, a woman who measures 38 inches around the bust and 34 under is a D cup.