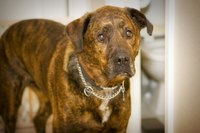 Fleas are a nuisance. They make dogs itch until they bleed; your dog may even chew on herself to relieve the irritation these pesky little creatures cause. Fleas not only cause annoyance to pets, but to humans also. Fleas can spread in the house and have even been known to bite humans, according to "Dr. Pitcairn's Complete Guide to Natural Health for Dogs & Cats." Take action when fleas are first noticed to stop an infestation.
Things You'll Need
1 raw clove of garlic, mashed
2 tsp. brewer's yeast
1 lemon
1 pint water
Borax
Dog collar
Lemon essential oil
Fight fleas from the inside out by feeding dogs a special diet that helps repel fleas. The items that are mixed into this repellent are both natural flea deterrents, according "Dr. Pitcairn's Complete Guide to Natural Health for Dogs & Cats." Mix one crushed garlic clove with 1 tsp. of brewer's yeast into the dog's regular food, once a day whenever fleas are spotted. Use often in the warm months. Garlic can be toxic to dogs in large amounts, so be sure to only use one clove and no more than once a day.
Mix a batch of lemon water, using 1 pint of boiled water mixed with the juice from one fresh lemon. Let it sit overnight and then sponge it on the dog the next day. Lemons are known to keep fleas away, according to "Dr. Pitcairn's Complete Guide To Natural Health For Dogs & Cats."
Treat the house for fleas if a dog that lives there has been infected. Some of the fleas are sure to try to find a new home, so sprinkle borax powder (a laundry detergent) onto carpets to help kill the fleas. Let it sit for about 15 minutes, then vacuum. Repeat this anytime fleas are seen.
Make a flea collar at home using an old, or new, dog collar, some material and lemon essential oil. Soak the old collar in a cup of water with 20 drops of lemon essential oil overnight. Let it dry. Put it on the dog to help keep fleas away without spending money on store-bought flea collars. This collar can be re-soaked anytime the lemon smell start to go away from it, or anytime it needs to be washed. Wash it then repeat the steps with the oil.