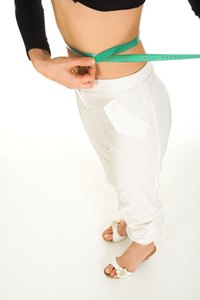 If you're tired of those extra 15 lbs. on your belly or thighs, you may be ready to get serious about losing weight. There are several advantages to shedding unwanted fat -- including greater mobility, strength, agility and increased cardiovascular health. However, losing weight too quickly is not recommended. Shedding 15 lbs. in 50 days is an ambitious goal -- but a smart plan will help you get close.
Things You'll Need
Calorie charts
Healthy foods
Set a weight loss schedule. Fifteen pounds divided by 50 days equals 0.3 pounds a day, or 2.1 pounds a week for 7 weeks. This is a healthy time frame in which to lose weight. Anything more than 2 or 3 pounds a week will cause you to lose tissue that you want to keep such as muscle mass, according to CaloriesPerHour.com.
Cut enough calories from your diet to lose weight at a healthy pace. To lose 2 lbs. a week you need a calorie deficit of 1,000 calories per day, notes CaloriesPerHour.com. This can be achieved through a combination of exercise and eating fewer calories a day.
Calculate how many calories you can burn through exercise, and how many calories you need to cut from your diet. Depending on your weight, you can burn anywhere from 300 to 600 calories in half an hour of aerobic exercise -- including running, swimming, cycling, canoeing and basketball, according to Shape Fit. Determine how many calories you can burn through exercise, and subtract that number from 1,000. The result is how many calories you need to cut from your diet. For example, if you burn 300 calories from half an hour of daily exercise, then you need to cut 700 calories from your diet if you want the daily calorie deficit of 1,000 required to lose 2 lbs. in a week.
Exercise for at least 30 minutes day. Choose aerobic activities that work your whole body such as running, swimming and cycling. Drink at least 3 liters of water a day. This will help replenish lost fluids -- it will also make you feel full, and you won't be tempted to over indulge.
Eat a healthy, balanced diet. To help cut calories from your meals, scale back your intake of rich desserts and fried foods. Eat a lot of leafy green vegetables, legumes and complex carbohydrates. Snack on foods like carrots, apples, bananas, celery and whole grain wheat bread. Look at food labels to determine calorie content to maintain your daily deficit of 1,000 calories.