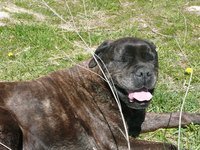 While having a dog inside your truck's cab can be distracting and crowded, it is often illegal to have a dog riding unsecured in the back. A truck dog box helps to keep your pooch safe while traveling as it is secured to the bed of your truck. Building a dog box requires easy-to-find materials and should not take longer than a few hours.
Things You'll Need
4 large pieces of wood material
Drill
Sandpaper
1 latch
2 hinges
Nails
5 bolts and nuts
Circular saw
Choose the material for your dog box. Your choice should be strong and resistant to the elements, such as wood, weather-proof plastic or aluminum. Purchase these materials at a hardware store.
Decide on the measurements for the dog box, taking into consideration the size of your dog and your truck. A dog box should generally not be smaller than 39 inches in length, 22 inches in height and 24 inches in width.
After measuring, use the circular saw to cut the six pieces of your dog box from the four larger sheets of wood.
Drill small ventilation holes, about 1 to 2 inches in diameter, on at least two sides of the dog box. Avoid drilling ventilation holes in the top or bottom to keep rain water and excess dirt from entering the enclosure.
Drill four holes, one at each corner, into the bottom piece of the dog box. Many people put additional holes in the door of the dog box to allow the dog to look out.
Use the sandpaper to sand the holes to prevent any rough or sharp edges.
Nail all of the pieces together except for the door. Attach the door using the two hinges. Bolt the latch to the opposite side from the hinges so the door can be kept safely closed.
Drill four small holes into the bed of your truck, aligning them with the bottom of the dog box. Bolt the dog box securely to your truck bed through the holes drilled in the bottom.