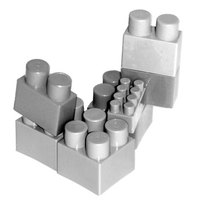 Your key to recycling LEGO® bricks and components lies in the toy's widespread appeal, durability and reusability. LEGO materials, which are made from durable but hard-to-recycle plastics, are diverted from landfills by LEGO users' robust appetite for the product, according to Earth911. Explore this demand in your community or online; chances are you'll find enthusiasts or charities ready to take, buy and breathe new life into your old LEGO toys.
Things You'll Need
Used LEGO bricks and components
Warm water
Bucket
Colander
Alcohol
Cotton tips
Towel
Cleaning
Wash your LEGO play materials before giving them away, especially if you plan to give them to children. Sort your stash into three groups: plastic pieces, pieces with stickers and electrical pieces. Each type of LEGO product will require slightly different handling.
Drop your plastic LEGO pieces into a bucket of warm water that is no more than 40 degrees Celsius or 104 degrees Fahrenheit. Mix in a little dishwashing detergent and a touch of bleach. Swish the pieces around gently with a wooden spoon or gloved hand, and then let them sit for a few minutes. Scoop out the pieces with a meshed or slotted spoon, and then drop them into a colander.

Hand wash your LEGO pieces with stickers individually, using the warm, soapy water from the bucket. Drop them into the same colander as the plastic pieces and then run fresh water over everything to rinse them out. Spread all pieces on a fresh, clean towel to air-dry.

Dab cotton tips in alcohol. Gently wipe electrical parts such as motors, battery cases and cables. Allow these to air-dry also along with your other pieces.
Recycling
Ask family, friends and neighbors if they would be interested in your LEGO toys. You may be surprised at how much interest there will be among your "inner circle." They may also recommend others who would be interested.
Call your local daycare, school, children's hospital or other place that houses children, such as a nearby domestic violence shelter or Ronald McDonald House. Your local United Way may be able to provide you with a comprehensive list and contact information for organizations that provide children's services in your area.
Bring your LEGO items to the nearest Goodwill or Salvation Army collection center. Or consider donating to the Toy and Plastic Brick Museum in Bellaire, Ohio, vis-à-vis its LEGO recycle program (see Resources); you would need to carefully package and mail your pieces to them.
Sell your items on BrickLink (see Resources), which specializes in buying and selling LEGO play products. Explore also general marketplace sites like eBay or Craigslist, which have substantial sections devoted to LEGO toys. Familiarize yourself with each site's requirements and terms of use and then register to post your items online.