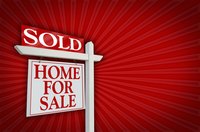 Real estate signs are a must when selling your home. It is a great method of advertising for passersby. With a little patience and determination you can still install your sign into frozen ground.
Things You'll Need
For-sale sign
Cordless drill
Place the real estate sign parallel to the spot in the frozen ground where it will be posted.
Drill into the frozen earth about six inches straight down in front of the sign, one hole for each pole. This might take a little bit of pressure if the ground is really hard.
Insert the sign poles into your newly made holes. Push down until the sign is secure.