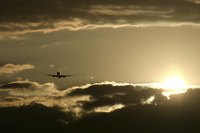 With an ever-increasing destination list, Asiana Airlines has become a popular choice for international travel. Asiana Airlines' frequent flier program, Asiana Club, allows customers to earn mileage toward international travel through several simple channels.
Fly Asiana
The easiest and most straightforward method of obtaining miles with Asiana Airlines is by using the airline for travel. Be sure to provide your Asiana Club membership number while purchasing your ticket or checking in before departure.
All For One
Additionally, Asiana Airlines is a member of Star Alliance, the world's largest alliance of airlines. Asiana's membership provides frequent fliers the opportunity to earn miles through flights with other Star Alliance participators -- including Air Canada, Lufthansa and United Airlines, to name a few. Simply use your Asiana Club membership number when purchasing your ticket with a participating airline.
Plastic
Passengers from the United States or Japan can enjoy miles and flight perks when using an approved Asiana credit card. Asiana Club provides up to 3 frequent flier miles for every dollar spent. Members can earn Asiana miles on every grocery run and gas fill-up to use towards their next getaway.