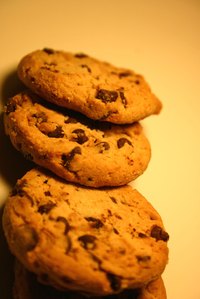 It is a thoughtful gesture to send cookies in the mail as a gift or care package for an overseas student or family member, but you don't want the cookies to turn to crumbs or go rancid. Choosing the right recipe, packaging and mail service will help ensure a safe, speedy delivery.
Things You'll Need
Rectangular shipping box
2 boxes about half the size of the shipping box
Tape
Packing tape
Waxed paper
Plastic wrap
Packing peanuts
Choosing your Recipe and Baking
Research recipes that yield firm cookies, such as shortbread, sugar and gingersnaps. Cookies made with white sugar tend to be sturdier than those made with brown sugar.

Avoid recipes that call for honey, brown sugar or molasses, which can cause the cookies to get moldy. Cookies that contain margarine, butter, nuts or nut butter can go rancid in the time it takes for them to be shipped. An alternative is butter-flavored shortening.
Opt against a recipe that requires chocolate chips if you're planning to mail the cookies to a country with a warm climate because the chocolate could melt.

Bake your cookies as close as possible to the time you're going to send them. Send them as early in the week as you can so they don't get held at the post office over the weekend.
Packaging and Mailing
Stack cookies in groups of two, with their bottoms facing each other, placing a piece of waxed paper between the two. Wrap each stack of two with waxed paper, and then wrap with a few layers of plastic wrap.
Fit the two smaller boxes inside the shipping box.
Put a layer of packaged cookies on the bottom of one small box, and place a piece of plastic wrap over the cookies. Add another layer of cookies and another piece of plastic wrap, and continue until the box is filled. Finish with a piece of plastic wrap on the top. Close the small box with tape. Repeat with the other small box.
Fill in any gaps in the large shipping box with packing peanuts. Seal the shipping box with packing tape.

Take the box to the post office, and select the speediest priority shipping choice available.