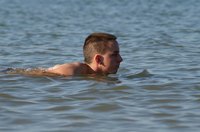 Teenagers should be careful when embarking on a weight loss program because their bodies are still growing and unhealthy diets may actually hamper proper growth. Obesity, though, is a growing concern as people become more sedentary. The American Academy of Child & Adolescent Psychiatry says that 16 to 33 percent of children and adolescents in the United States are obese, primarily due to inactivity and bad eating habits. Overweight teen may also suffer from depression because of taunting and isolation. Weight loss camps often help teenagers lose 5 lbs. a week, but simple changes at home yield similar results.
Visit your family doctor or pediatrician. The physician will determine if you really need to lose weight by measuring your body mass index, weight, height and fat percentage. He will also do blood tests and check your blood pressure to make sure that you don't have other health conditions like diabetes, high cholesterol or heart problems.
See a dietitian. A dietitian will help outline an eating program with the proper portions of fats, proteins and carbohydrates. Your customized diet may be different from another person's plan. In general, you need to consume at least five servings of fruits and vegetables, whole wheat grains for fiber and lean meats. Follow your program to the letter to lose the weight.
Avoid snacks and food choices at school. Numerous high schools now serve high calorie foods like French fries, hamburgers and pizza for lunch. If your school has vending machines or soda fountains, avoid them and drink water. Some schools now have salad bars as healthy options. Bring your own lunch if your school does not have a selection of healthy foods. You can purchase containers that keep food hot or cold, depending on what you bring to school. Don't eat salty foods to reduce water retention.
Eat breakfast. Dieters sometimes think skipping breakfast will hasten weight loss, but the opposite often occurs. When you don't eat breakfast, you feel hungrier later in the day and overeat. A breakfast containing protein, complex carbohydrates and fat, however, help jumpstart the metabolism for the day, helping you burn calories. Follow breakfast with five small meals and snacks. Bring a pack of nuts to munch between morning and afternoon classes.
Exercise at least six times a week for an hour. Your exercise program should include five days of cardiovascular work, three days of strength training and two days working on your flexibility. Cardiovascular activities include walking, running, swimming, dancing and aerobics. Numerous gyms require that parents be members for teens to use the facility, but you can workout at home using exercise DVDs. Strength training builds muscles, reduces fat and speeds up the metabolism. Change your routine every three to four weeks to prevent plateauing.
Add activity to daily routine. If you are able, walk or bike to school or the store. Turn off the television and take afternoon walks around the neighborhood after dinner. Play video games that require standing and moving the entire body, or ride an exercise bike while watching television. Find a sport or activity you like, such as tennis, dance classes or hiking.