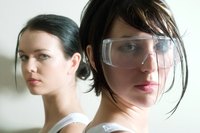 "Emo" is a term that is used to describe a social scene for young adults in the United States and all over the world, particularly in nations such as the United Kingdom, Australia and Canada. Emo is a type of self-expression that focuses on individuality and feelings of being an outcast in the modern world. It is also generally associated with the "emo" genre of music, which is a subdivision of rock. Many fashions are also linked with the emo concept, including hairstyles, for both girls and boys. The classic emo-style "mullet" hairstyle for girls is relatively easy to achieve.
Things You'll Need
Female Emo Haircuts
Prepare your hair before cutting it. Dye your hair black beforehand, unless your hair is already naturally jet black or dark brown. Before starting with the female emo haircut, it is crucial to set the appropriate atmosphere by first dying the hair an angsty jet black shade, or at the very least, dark brown. Then, if your hair isn't naturally straight, straighten it either with a blow dryer or flat iron. If permanence is necessary, the results of Japanese and Brazilian hair treatments can last for up to a year, although they are often costly.
Cut the hair precisely just on one side of the forehead for emo authenticity. Thick bangs can also help to complete the effect, and are a good starting point for the rest of the hair.
Consider a contemporary mullet. Cut the hair short with a front angle, and get layers, with the hair being shaggier and longer towards the back. For a shorter mullet, give the back of the hair a long tail which leans towards one side of the head. Comb the bangs to the same side.
Pay attention to details. Make sure the haircut stands out, and several little details can help it do so. Keep the hair disheveled and artfully messy; allow it to slightly protrude in several different directions -- think "bed hair." Hair gel can help with that. Make sure the hair of the nap is tousled. Also, add some funk and funky color highlights to the black hair, and do not be afraid to go bold with shades, such as purple, blue or bright yellow.