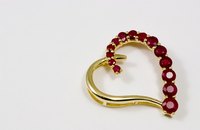 The ruby is a gemstone derived from the mineral corundum, and has been worn since medieval times. Prized for its fiery red color, the ruby is believed to be a harbinger of love, health, wealth and wisdom to the wearer. The ruby is a tough and durable stone, and can be kept lustrous by following a simple cleaning process that retains its polish.
Things You'll Need
Bowl
Warm soapy water or non-toxic jewelry cleaner
Soft bristle toothbrush
Microfiber cloth
Place the ruby in a bowl containing warm soapy water or non-toxic jewelry cleaner and allow it soak for 10 minutes.
Remove the ruby from the water and gently scrub it with a soft bristle toothbrush to dislodge any dirt that may have settled in.
Rinse the ruby in warm water to wash off the soap or the non-toxic jewelry cleaner.
Gently wipe and buff the ruby with a microfiber cloth.