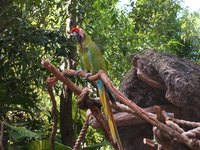 Purchasing a Walt Disney World Magic Your Way Ticket with the Park Hopper option is the best way to save money and be able to see multiple theme parks in a single day. The option gives you access to Disney's Animal Kingdom theme park, Epcot theme park, Magic Kingdom theme park and the Hollywood Studios theme park. The Magic Your Way Ticket can be purchased for one day or up to ten days, depending upon your length of stay in the Disney area. The Park Hopper option can be added to your ticket purchase of two or more days for an additional fee. The Park Hopper option gives you the freedom to go from park to park and enjoy all of your favorite rides and attractions, no matter which theme park they're located in.
Make a list. The first thing you'll want to do is sit down and make a list of all the attractions, rides, shows and restaurants you'll want to see and do during your theme-park hopping experience. Rank these items in order of the most important and organize them by which theme park they're in. This way you'll be able to stop at the things high on your list first.
Start early in the morning. The earlier you start in the day, the more time you'll have to fit multiple parks in one day. If you're staying at a Walt Disney World Resort, you'll want to take advantage of Extra Morning Hours, when select parks open on certain days one hour earlier just for those staying on the property.
Get a FastPass. To help you make you way through the parks quicker, take advantage of Disney's FastPass service which is available on rides that tend to have longer lines. The FastPass will give you a time later in the day to return to enjoy the ride without having to wait in the long lines. The time you wait to return to the ride can be used to spend seeing other attractions at the theme park or get something to eat.
Hop over to another park late morning or early afternoon. If you want to take advantage of the park hopper option of your theme park tickets, plan changing theme parks somewhere between 11 a.m. and 1 p.m. This way you'll have plenty of time to enjoy another theme park and possibly hop on over to a third park around dinner time. One suggestion is to spend the morning at Disney's Animal Kingdom Theme Park. It opens the earliest and has the least amount of things to do. After visiting the Animal Kingdom, you'll have time to enjoy a different park later in the day.
Stay late. Just like arriving early in the day, you'll want to stay as late as possible. This way you can get more for the money you paid for the theme park tickets. If you're staying on the property and a park is offering Evening Extra Magic Hours, stay and enjoy the rides with fewer guests and shorter lines. Evening Extra Magic Hours keep the theme parks on select nights open three hours later just for guests staying on the property.