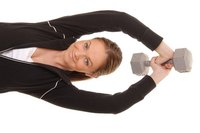 Getting rid of tricep fat or spot reduction in any part of the body is a myth. The only way to lose fat in a particular area is to lose fat throughout the body. Several factors determine where you lose or gain fat, including genetics, age and gender. For instance, some people might be predisposed to accumulating fat in their thighs. This will be the first area to get fat, and the last area to become lean. While spot reduction is a myth, strength training does help to tone up the muscles in particular areas. For lean, well-sculpted, toned arms and triceps, the best bet is to focus on overall fat reduction, while doing strength training specifically directed to these muscle groups.
Start with a cardio workout specifically targeted at fat loss. The most effective workout to achieve fat loss, while maintaining your muscle mass, is the high intensity interval training (HIIT). HIIT training not only helps performance, it also improves the ability of the muscles to burn fat.
HIIT is a cardio workout where short, high intensity intervals are alternated with longer, slower intervals. HIIT can be applied to any type of cardio exercise such as running, squatting and cycling, and typically lasts about 20 minutes. The intervals can be varied according to your fitness level. The 30-90 split interval is a good place to start, wherein the high intensity/sprint phase lasts 30 seconds and the rest phase lasts 90 seconds, for a total of six to eight such cycles. As you advance, you can shorten the rest phase to 60 or 30 seconds, and increase the number of cycles. HIIT should never be done on consecutive days--aim to do it every other day.
Perform strength training by choosing one to two exercises for each muscle group (for example, leg press and squats for the legs, tricep curls and kickbacks for the arms). The number of repetitions can be varied; however, make sure that by the end of a set you are exerting yourself beyond your comfort level. For instance, you may do 10 to 15 repetitions of three sets. You may choose to alternate the muscle groups in your workout sessions, for instance focus on the lower body in one session, and upper body in another. The goal is to do overall strength training in order to increase the fat-burning metabolism, and not focus only on the tricep area (to reiterate, spot reduction is a myth).
Work out the triceps by choosing from the many tricep exercises. You may do one to two focused tricep exercises, with 15 to 20 repetitions in three sets. For example, to perform tricep curls, extend arm(s) above head with a dumbbell/weight in hand. Fix the upper arm in place, lower the weight and extend back up slowly.
For pulley pushdowns, you will need a rope, V-shaped bar or a straight bar attached to a pulley. With knees slightly bent and elbows pinned against the sides of your torso, slowly move the lower arm downward. It is important that the elbows remain motionless throughout the exercise.
For a one-arm tricep pushup, lie down on the floor on one side with your knees slightly bent and your body at 90 degrees to the floor. Place one hand on the floor in front of you and the other hand on your top shoulder. Push yourself up and off the floor, making sure your hip stays on the ground and only your upper body is being moved. Repeat 10 to 15 reps before switching sides.
To perform dips, grab the edge of a weight bench (or similar equipment/furniture) with your hands slightly more than a hip-width apart. Lower your hips by bending your upper arms no more than 90 degrees, keeping them very close to the bench. Slowly return to starting position. Repeat for 10 to 12 reps.
Make sure you're on a low calorie diet. It is extremely important that you're not consuming fatty foods, which will defeat the purpose of a fat loss workout. Maintain a food log, switch to healthier foods, increase fiber, complex carbohydrate and lean protein intake, and stay hydrated. Healthy foods rich in fiber will help you feel full longer, thereby reducing the urge to eat more. Whole grain options such as brown rice and whole wheat pasta, fruits, vegetables and lean meat (e.g., chicken breast, fish, turkey meat) are all conducive to losing fat.