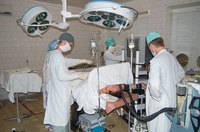 Surgeries, whether elective or medically necessary, can be very pricey, in most cases costing thousands of dollars. Many of the uninsured opt out of having surgeries because they don't have the money to pay for them. Fortunately, there are many different ways of raising funds. It's a noteworthy cause to which a broad spectrum of people will gladly make contributions. Being innovative and determined is key to raising funds for this type of cause.
Ask your family members for help. In times of need, your family is the first line of defense. Give them all the details about the surgery and the total cost. Tell them that you need help in defraying the cost of the medical operation. Ask them to donate as much money as possible. If one of the members doesn't have the money on hand, ask her to take out a special loan or pay with a credit card when you receive the invoice from the hospital.
Go to your church for assistance. Your church can raise a lot of money because it has many resources and strong ties to the surrounding community. Tell the pastor the details of the surgery and explain that you need a certain amount of money to pay for it. Ask the pastor to start a special fund to assist with your efforts, and request that the church take up offering for the fund every church service. Request that the church raise money in its community on your behalf.
Raise money in your own community. Create a fund-raising letter that includes who you are, your contact information, the details of your surgery and why it's needed, your involvement in the community and when the money is needed. Get friends in your community to help you distribute the letters to as many neighbors as possible. Put the letter in their mailboxes or on their doors.
Hold a garage sale in your community. Tell neighbors why you are having the garage sale. Distribute your fund-raising letter during the garage sale, in case people just want to donate.
Use social outlets like Facebook to help raise money. Sign up with Facebook if you don't already have an account (see Resources). Create a Facebook fan page for your cause and invite friends and family to join the group. Tell them to invite their friends as well. This increases people's awareness of your fund-raising efforts. Take a picture of the letter you wrote in step three, upload it to your Facebook photos and make it your profile picture and a picture on your fan page. Tag all of your friends in your picture, which will notify them, causing them to look at your page and increasing awareness of your efforts.